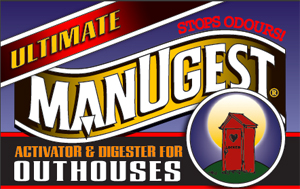 Manugest - ulitmate outhouse treatment.
Regular use of MANUGEST generates efficient and reliable waste digestion of outhouses.
Safe for use in septic tanks, holding tanks, RV & marine tanks, composters, pits, vaults & lagoons.
    ENVIRONMENTALLY SAFER
✔

Natural Ingredients

✔

100% Biodegradable

✔

Eliminates Odours & Flies

✔

Reduces Solids

✔

Safer To Use, Handle & Store
Order Manugest Outhouse treatment in 5 lb bags. Each 5 pound bag lasts for about 75 weeks.